Emma Stergoulis Design
A little something for the weekend – Apothecary charm
It is that time of year when you start to rack you brains as to the perfect gift for that special person who has everything.  Well inspired by the potions and lotions of Halloween how about a little apothecary charm filled with something special. British designer Andy Poplar decided to set up Vinegar and Brown Paper after reaching "the end of his creative tether" in advertising.  Opting to set up the business to enable him to become a stay at home dad.
The collection includes, apothecary jars, mirrors, coffee plungers, milk bottles to name but a few….. so which is your favourite, and what would your potion be made up of?
"Elixer of Youth" Image source – Rockett St George
Elixer of youth is the perfect potion for the peter pan in your life.  Or perhaps something to get this creative juices flowing….
"Creative Juices" – Source Rockett St George
Or perhaps the one I need most days to get this "Creative Juices" flowing…….Or perhaps a little extract of genius will help you beat the "know it all uncle" at scrabble!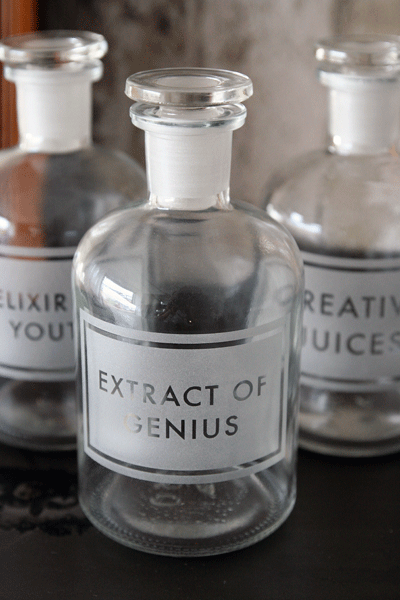 And wise words for anyone who has spilt some milk…….
Spilt Milk – Source Rockett St George
For those who prefer their coffee black……
When the day gets bad and you need a little time for reflection….
Before I leave you, I will pass on one further message , just cos it is the weekend……this great picture from UK store Rockett St George.…
Now that is my kind of medicine…. enjoy the weekend, mean while on with the colourful journey….
#vinegarandbrownpaper #design #HomeWares #Coffee #vintage #Glass #etching #mirror #InteriorDesign